It has definitely been a while since I've posted on here, but for good reason!
I have been a busy, busy bee. Here are all the things going on. Stay tuned, you might want to hear about some of it if you like books!
1. As some of you may know, I'm the head editor at
Metamorphosis Editing Services
and we have been SLAMMED with clients, so I have been filling my days becoming part of other writers' processes. It's been rewarding and fun and awesome! So awesome that in January, I was able to quit my part time job and concentrate on it full time. If you are or know of anyone needing an editor, beta reader, or proofreader, email us fast! The rate is going to change (only slightly, I still want to make it cheap for us writers--we're not made of money) in a month or two--I'm starting to save for a house!
I'm also a part-time editor at Booktrope, and I've had the pleasure of proofreading books by the lovey
J.C. Hannigan
. You need to get her books. I feel like if we knew each other in real life, we'd be best friends. lol.
And I've just started Forbidden Darkness by
Alec John Belle
. It's amazing.
2.
Animal
was released and just yesterday, the
paperbacks
came out! It hit the bestseller's list on the FIRST DAY it was out. Thank you. : )
Look at this beautiful, big baby!
3. The Sunshine Series is FINALLY being put together into one massive volume and will be out on April 30th! There's going to be a TON of extras (poetry, interviews, Q&A, a sneak peek of Animal, etc) in there and currently the ebook sits at over 500 pages! I don't have a cover yet, but I'm working on it. If you want to see it as soon as it is released and if you want a chance to win some cool prizes, you should totally come to the
Facebook party!
4. I will be at the Yo, Philly Author event on May 16 from 10am-5pm! If you live nearby, come see me and over 60 other authors and their books! Tickets are FREE. Buy them
HERE!
Spot my name!
5. Speaking of book signings, I'm actively seeking more out and I may be doing more this year, so keep your eyes peeled! Follow me on
Twitter
and
Facebook
if you want to keep up.
6. And speaking of signed things, you can now purchase SIGNED SWAG AND BOOKS directly from me! So many people have asked, and I've been trying to figure out a way to make it happen. Right now I'm utilizing Google Forms. If you want something, fill out the form(s) and I'll send it to you! Check out the links up top!
Literal picture of me on a good day.
7. I have a new book schedule. Right now, I'm working on two books that I absolutely need to finish: one for self publishing, and one that I will hopefully be pitching to agents. I haven't done that in over 10 years, so hopefully I've learned a few things since then and hopefully I don't chicken out.
If you're wondering what books they are, you voted for them and they were the two most popular. That's all I'm gonna say. ; )
8. And here comes the BIG news!
Some of you may have noticed that you can't find The Donor on Amazon anymore. That's because I took it down. I had to take it down because it got PICKED UP BY A PUBLISHER.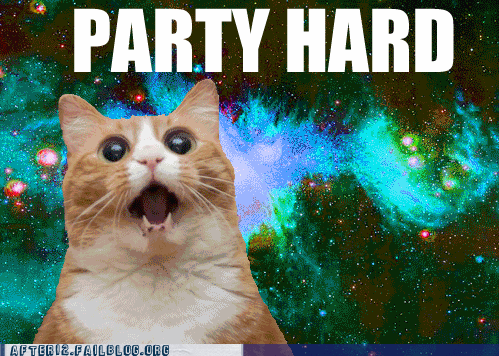 I am happy to announce that I am one of the newest members of the
Vamptasy Publishing Family
, an Imprint of Crushing Hearts and Black Butterfly Publishing. It's all very new (just signed the contract last week) and strange having people to help when I've done it all by myself since the beginning, but I'm excited to see where this goes! I'm going to be updating on Facebook and Twitter when the new cover will be revealed and when the story will be re-released, so look for it!
And that's it so far. I know I always say I'm going to blog more, but I just don't. lol. Hopefully all this awesome news makes up for it! I just wanted to thank you all--readers, friends, other writers, and everyone I know in general. This year has been a lot more easy and a lot more rewarding than last year. I can't wait to see what happens next!
Sorry. I had to.